Arselle or Vongole?
Arselle or Vongole?
Who doesn't know you, the mussels from the sea? But what are Arselle, and how do they differ?
In contrast to the Vongole (Venusmuschel), the arselle are smooth and shiny, the color is mostly dark yellow, grey to black.
The clam is basically larger and much brighter than the arselle.
The difference between clams and arselle is clear, but there are often confusions with names.
The two molluscs belong to two different families: Donacidae le arselle and Veneridae le vongole, although the differences in the shell are quite clear. But here's how to distinguish them in practice:
– First, the clam is larger on average, with a rather round shape, while the armpit has almost triangular edges.
– Then the Vongole has concentric ribs starting from the point where the two shells meet at their outermost edge. Sometimes the shell is curled, like the shells found on the beach (yes, they are probably mussels). The shell of Arselle is instead completely smooth and shiny.
– Finally, the color tends to be dark yellow, grey or black, while those with wavy shell are often white or mostly white. Instead, the tellines have very bright, almost spring-like colors, which are highlighted by the brilliance of the shell.
Recipe: Spaghetti All Arselle
Ingredients (for four people)
400 g Spaghetti
1 kg Arselle (Vongole veraci)
1 small bunch of leaf petersilie
1 clove garlic
Olive oil
Salt
Pepper
Optional (white wine or Vernaccia di Oristano for extinguishing)
Optional 3-4 tomatoes for the Alghero version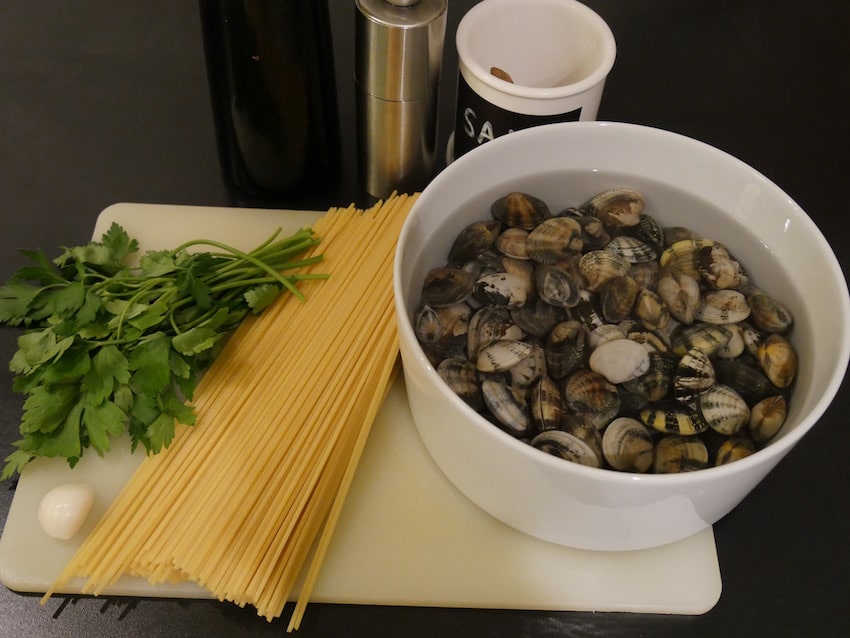 Preparation
• Put the arselle in a bowl of lightly salted water for some time so that they "spit out" the sand that some of them still contain.
• Chop the parsley and garlic. Set up water for the spaghetti.
• Heat the arselle in a large frying pan without adding oil or water until opened. Throw away unopened shells. Remove the open mussels and place in a bowl. Sift through the water that has leaked when opened and set aside.
• Remove part of the arselle (about half, possibly more) from the shell and set aside. Put the noodles in the water.
• Sweat the parsley and garlic in olive oil for a short while, add the mussels (both the ones triggered and those with a bowl) and cook on a small flame. Sprinkle with freshly ground pepper, do not salt. Gradually add some of the salty mussel sud or some water so that the mussels do not become too dry. Season with salt.
• Drain the spaghetti and add to the mussels. Mix everything gently and serve hot.
Variants
1. You can quench the mussels after the swearing with some Vernaccia di Oristano or dry white wine.
2. In Alghero, add 3 or 4 tomatoes, skinned and cut into small cubes. The pepper is then dispensed with.