Barumini – the historical open-air museum
Barumini – the historical open-air museum
The tranquil town of Barumini is located in the heart of the island.
The archaeological site "Su Nuraxi" (Sardinian word for "Il Nuraghe") is located at the foot of the Parco della Giara near Barumini. The nuraghi are the most important megalithic buildings in Sardinia, whose function is still disputed among archaeologists today. Some consider them temples, others for dwellings, fortresses or tombs.

> Here you will find the opening hours, the entrance fees and other useful information for tourists.

Su Nuraxi was built around the 12th century. BC. and is located on the road that leads from Barumini to Tuili. The complex was declared a World Heritage Site by UNESCO in 1997 (http://whc.unesco.org/) and is undoubtedly the most important expression of nuragic culture in Sardinia.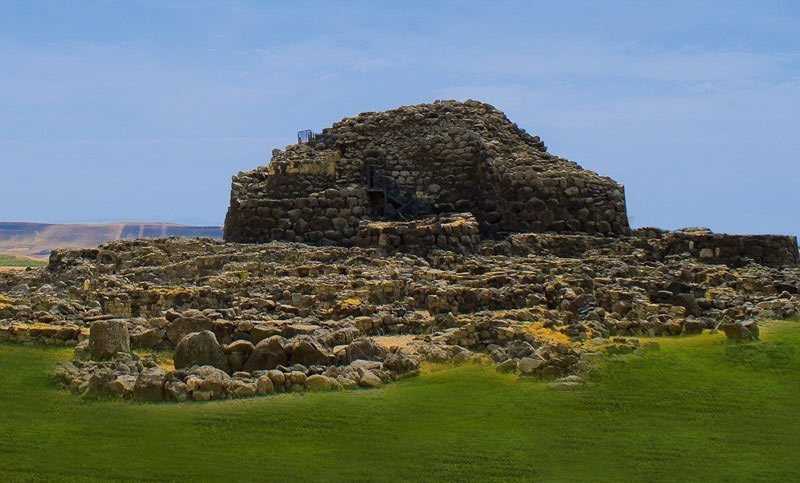 The importance of the nuragic plant, located on a hill about 230 meters above sea level, is reflected in its complexity. Su Nuraxi is in an excellent state of preservation.Particularly impressive is the fortress consisting of several towers. The central tower is surrounded by a wall body with four corner towers framed by another seven-towered wall ring. Silently, the large, labyrinthine village with narrow paths and houses with courtyard, wells, cisterns and meeting huts tells a mysterious story that dates back 3500 years.
The fortress is open to visitors. You can visit them and walk through the rooms and narrow corridors. The oldest part of Su Nuraxi, the truncated cone-shaped central tower, was originally over 19 meters high and consists of three superimposed vaults.

Radiocarbon analysis of an olive wood beam trapped in the basalt blocks of the building has shown that this part of Su Nuraxi dates back to the year 1478 BC. goes back. The four corner towers around the central tower are placed in the four cardinal directions and originally consisted of two storeys. They were probably built in the 13th century. BC. built.
About two centuries later, the fortress was reinforced by another three-meter-thick basalt wall, making it even more difficult to access uninvited guests.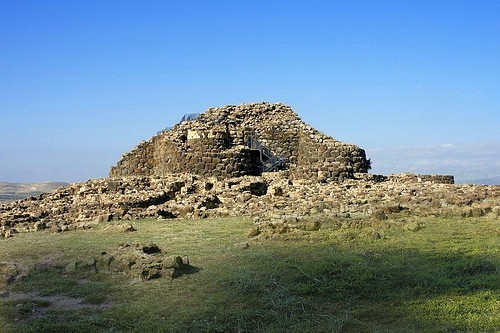 To enter the Nuragic fortress of Barumini, enemies had to reach a small entrance about 7 meters above ground level, which made them impregnable in their eyes.
Even today, the only entrance is this small door. The excavations carried out in the 50s by the archaeologist Giovanni Lilliu have revealed that Su Nuraxi until the third century. BC. ==References==

In addition to Su Nuraxi, there are over 7,000 other nuraghi scattered throughout Sardinia; the most important are:

Nuraghe Santu Antine (Torralba)
Nuraghe Losa (Abbasanta)
Nuraghe Orrubiu (Orroli)
Nuraghe Palmavera (Alghero)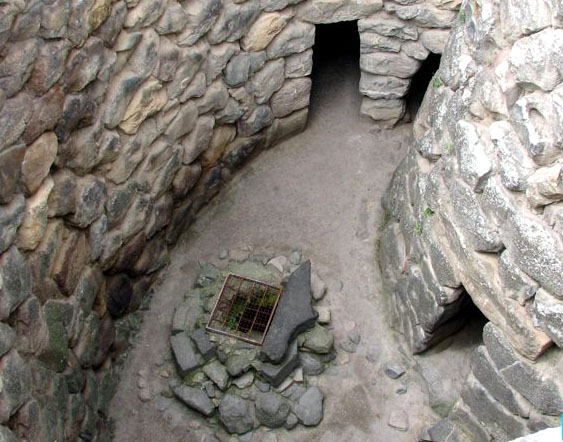 Every half hour there are guided tours to visit the plant in Barumini. The opening hours vary depending on the season. For large groups, a pre-order is recommended.
Admission:
Admission including guided tour
€ 12,00 (adults)
€ 9,00 (young people between 13 and 17, as well as groups of more than 20 people)
€ 7,00 (children between 7 and 12)
Children up to 6, members of the armed forces, disabled and accompanying persons, accompanying persons of at least 15 students do not pay admission
Duration: Approx. 50 minutes
Opening hours:
January-February 9:00/17:00 (last visit 16:00)March 9:00/17:30 (last visit 16:30)April 9:00/19:30 (last visit 18:30)May-June 9:00/20:00 (last visit 19:00)July 9:00/20:30 am (last visit 7:30 pm)August 9:00/8:00 pm (last visit 7:00 pm)September 9:00/7:30 pm (last visit 6:30 pm)October 9:00/6:30 pm (last visit 5:30 pm)November-December 9:00/5:00 pm (last visit 4:00 pm)
On special holidays and at events such as "Notti colorate", guided tours are also organized at night.
Advice:
The tour takes place outdoors. We recommend that you wear a hat and do not forget the sunscreen and water. In winter, you should bring a raincoat and shoes suitable for any rainfall.
Nuraghi nearby
In the surroundings of Barumini there are other important nuraghi to see, such as "Su Mulinu" in Villanovafranca with attached archaeological museum. Less than 20 km from the village, in the municipality of Villanovaforru, you can visit the important regional museum "Sa Corona Arrubia" .
More photos of Su Nuraxi in Barumini can be found here: www.neroargento.com/page_galle/nuraxi_gallery.htm